Sajar Maranlou Kiani
CORPORATE FINANCE Professor
Holy Family University, USA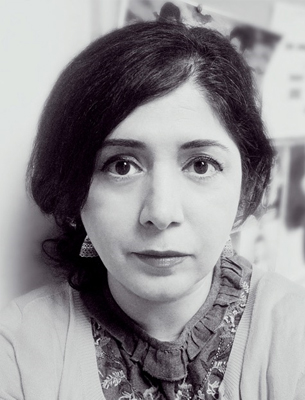 Post-Doctoral Research Officer in Middle East Studies Sasakawa Programme
I received my PhD in Law at University of Warwick, prior to my arrival at Oxford as a post-doctoral fellow. I am mainly interested in access to justice, legal empowerment, human rights, Islamic Law and gender.
In my recent book 'Access to Justice in Iran; Women, Perceptions and Reality' (Cambridge, 2014) I have studied the historical development of the justice sector in Iran and discusses issues including the performance of the justice sector, judicial independence, efficiency and accessibility, and normative protection, together with an analysis of barriers. My book explores the legal empowerment of users, with a specific focus on women, and presents the findings of a survey study on the perceptions of Iranian women. This study is designed to focus on women's basic legal knowledge, their familiarity with legal procedure, perceptions of cultural barriers, issues that influence their preference for mechanisms of formal or alternative dispute solutions, and their level of satisfaction with their chosen courses of action. Before joining the academia, I have worked as consultant for a range of national and international organizations, including UNICEF and UNDP. I was a member of the steering committee for the Global Alliance of Justice Education (GAJE) and have taught Islamic law and international human rights at the University Warwick and the University of Brunel.
Contact Information: This email address is being protected from spambots. You need JavaScript enabled to view it.
EDUCATION
2012. Ph.D. University of Warwick. Law School. Thesis title: Access to Justice: What Do Iranian Women Think about Their Law and Legal System?
2011. Teaching Qualification, University of Warwick, Postgraduate Award Part One & Part Two: Introduction to Academic and Professional Practice (for Teaching at University level in the UK)
2005. Master of Arts in Human Rights, Justice Initiative Human Rights Fellow, Central European University, Budapest
1995. Bachelor of Laws, University of Azad, Tehran
AWARDS, SCHOLARSHIPS AND GRANTS
2015 recipient of the Sasakawa Peace Foundation Postdoctoral Fellowship in Middle East 
Studies at Oxford University.
2008-2012 recipient of the PhD Full Scholarship.
2004-2006 recipient of the Justice Initiative Fellowship to study one year M.A. in human rights at the Central European University.
Recipients of various travel grants for conferences, training workshops, summer schools fellowships and internships.
PROFESSIONAL AFFILIATIONS AND ACTIVITIES 

Member of the British Society for Middle Eastern Society (BRISMES)
Member of the Middle East Studies Association (MESA)
Member of the Steering Committee, South and Central Asia Representative, Global Alliance for Justice Education (GAJE), 2008 – 2013
Editorial Committee Member of Journal of Islamic State Practices in International Law, Brunel University, 2012- present
Co-founder of the first Iranian clinical legal education, Mofid University, 2007
Iran Young Leader in Governance selected by UNDP, 2006
Advisor, National Legal Committee for Women's Rights, Iranian Ministry of Interior, 2003- 2006
Advisor, Law Reform of Iranian NGOs, Iranian Ministry of Interior, 2000- 2002
Advisor, Municipality, District two of Tehran, Development and Civic Participation, 2002-2004
National Working Group Member, United Nations Development Assessment, Poverty Eradication and Employment in the Islamic Republic of Iran, 2003- 2004
Advisor, Iranian Industrial Confederation on Civil Society Organizations, 2001- 2004
Co- Founder and Member of Board, Participatory Development Watch (NGO), 2005- 2007
Co-Founder and Director of Hope Development Millennium Group (NGO), 2003-2006
Member of board of Iranian NGOs Training Center (NGO), 2003- 2006
Member of Iranian Journalists Trade Union, 1997- 2004
Member of Iranian Independent Women Researchers, 2000-2002
Candidate as Best Iranian Journalist in Social Articles and Critics, 1999