Professor Dr. iur. Roza Pati, St.Thomas University School of Law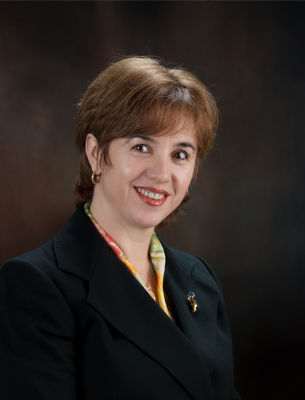 Prof. Dr. Roza Pati earned her Doctorate of the Science of Law (Dr. iur.) degree, summa cum laude, at the University of Potsdam, Germany, her LL.M., summa cum laude, at St. Thomas University School of Law, and her B.A., highest honors, and LL.B., honors, at the University of Tirana, Albania.
She teaches law at St. Thomas University School of Law. She is the Executive Director of the LL.M./ J.S.D. Program in Intercultural Human Rights and the Director of Human Trafficking Academy. Her areas of expertise include international law, human rights law, human trafficking law and terrorism law. Her doctoral dissertation was awarded the Wolf Rüdiger Bub Prize for the Promotion of the New Generation of Legal Scholars, by the University of Potsdam, Germany. Dr. Pati is Faculty Advisor of the Intercultural Human Rights Law Review and member of the Editorial Board of the series: Studies in Intercultural Human Rights (Martinus Nijhoff Publishers).
Formerly a Member of Parliament and a Cabinet Member serving as the Secretary of State for Youth and Women of Albania, Dr. Pati has a rich experience in public service, administration and academia. Dr. Roza Pati has been working on the problematique of human trafficking, in various capacities, since the mid 1990-s. Her lectures, presentations and research focus on issues of state responsibilities in fighting human trafficking, the human rights approach to trafficking vis-à-vis the criminal law approach, issues of prevention and root causes, human trafficking as organized crime, as well as the role of academia and the business sector as part of civil society's combat on human trafficking. She chairs the Sub-Committee on Education within the Florida Catholic Conference Ad Hoc Committee on Human Trafficking Awareness. In 2005, she facilitated the preparation of The Miami Declaration of Principles on Human Trafficking-- a set of law and policy recommendations on the issue.
She is a prolific scholar. Her publications include, inter alia, these books and articles:
Due Process and International Terrorism (Martinus Nijhoff Publishers 2009)
The New Dialogue of Civilizations, (Roza Pati & Joe Holland, eds., 2005)
States' Positive Obligations with Respect to Human Trafficking: The European Court of Human Rights Breaks New Ground in Rantsev v. Cyprus & Russia, 29 Boston University Journal of International Law 79 (2011)
Der Schutz der EMRK bei Menschenhandel, 3 Neue Juristische Wochenschrift (2011) [New Legal Weekly, Issue No. 3/2011
Combating Human Trafficking Through Transnational Law Enforcement Cooperation: The Case of South Eastern Europe, in Policing Across Borders: The Role of Law Enforcement in Global Governance (forthcoming, George Andreopoulos ed., Springer, 2012)
Trafficking in Persons and Transnational Organized Crime: A Policy-Oriented Perspective, in Proceedings of International Congress on Alternative Law, by Complexo de Ensino superior de Santa Catarina – Cesusc, Florianopolis, Brazil (forthcoming, 2012).
Trading in Humans: A New Haven Perspective, 21 Asia Pacific Law Review (forthcoming, 2012)
No Cierre Sus Ojos: La Trata Existe--The Global Effort to Combat Human Trafficking: Its Strengths & Weaknesses, Libro De Derecho Penal Especial, (forthcoming, Spring 2012)
Domestic Servitude: A Contemporary Form of Slavery, 7 Intercultural Human Rights Law Review (forthcoming, summer 2012)
US Immigration Detention: Policy and Procedure form a Human Rights Perspective—Introductory Remarks, 5 Intercultural Human Rights Law Review 5 (2010)
The ICC and the Case of Sudan's Omar Al Bashir, 15 University of California at Davis Journal of International Law and Policy 265 (2009)
Beyond the Duty to Protect: Expanding Accountability and Responsibilities of the State in Combating Human Trafficking, in The Diversity of International law: Essays in Honour of Professor Kalliopi K. Koufa 319 (2009)
Fair Trial Standards under Human Rights Treaty Law and the ICTY: A Process of Cross-Fertilization? in The ICTY and Human Rights: Towards a Fair Trial in International Criminal Procedure? 147 (Thomas Kruessmann ed., 2008)
The Miami Declaration of Principles on Human Trafficking: Its Genesis and Purpose, 1 Intercultural Human Rights Law Review 5 (2006)
Addressing the Scourge of Human Trafficking: The Challenge Ahead, 1 Intercultural Human Rights Law Review 75 (2006)
Rights and Their Limits: the Constitution for Europe in International and Comparative Legal Perspective, 23 Berkeley Journal of International Law 223 (2005)