Glenda May
International Speaker and Facilitator, Career Coach, Mentor, Corporate Psychologist
The University of Melbourne
Summary of Expertise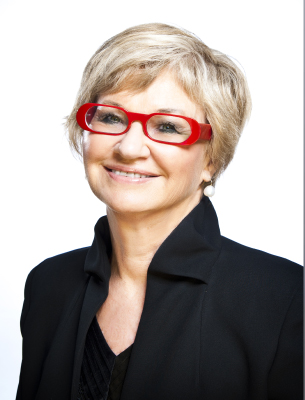 • CEO of Glenda May Consulting Pty Ltd
• Over 20 years' Facilitation and Business Coaching experience, working in companies in Australia, New
Zealand, China, India, Singapore, Malaysia and France
• Three university degrees; majors in English, Psychology, Counselling, and Education
• A rich, diverse background in academia, management and psychology, bringing to her clients practical
experience translated into an effective learning experience.
• Native English speaker and business French
• Registered psychologist and certified Executive Coach
• Author of four business books

Business Background
Glenda's career progressed from the academic field as a lecturer in Educational Psychology, to a Leader in Organisational Development, (as a manager in the Victorian Public Service Board) and then to managing her own HR consultancy business .
She has a 25 year history of achievement in delivering customised corporate development across a range of industries, with extensive experience in program design, implementation and presentation in a diverse range of organisations. Glenda regularly facilitates leadership programs, as well as coaching individuals for optimal career transition.
As a certified Executive Coach, Glenda has developed and successfully implemented mentoring and coaching programs in both private and public sector organisations.
Glenda embraces the concept of Positive Psychology, which she brings to all clients as a means of engaging and creating happy and productive employees. She is described as high-energy, motivational and
inspirational, with a real talent for helping others to look within and achieve their goals.

Specialties
Leading with Emotional Intelligence, Communication and Team Building, Conflict Resolution, Assertive Behaviour, Performance Management, Psychometric Testing, Executive and Business Coaching, Women in Leadership.

Industry Sector Experience
Glenda has worked in a wide variety of industry sectors, including: Government, Arts and Recreation Services; Automotive; Education and Training; Utilities; Financial; Universities; Health Care; Human
Resources; Information Media and Telecommunications; Manufacturing; Mining; Non-Profit Organisations; Public Sector; Transport.
International Speaker
• Asia Business Forum (Malaysia, Singapore)
• University Aix-Marseilles (France): 3 years teaching MBA students elective "Leading with Emotional Intelligence"
• International Congress of Applied Psychology (Paris)
• Zoetis Business Conference (Thailand)
• GE Leadership Programs (Australia, India, China, New Zealand): "Building Essential Leadership Skills", "Foundations of Leadership"
• GE "Coaching for Success"

Qualifications
• B.A. (Bachelor of Arts) Monash University
• B.Ed (Psych) Monash University
• B.Ed (Couns.) (Bachelor of Education in Counselling) LaTrobe University
• M.A.Ps.S. (Member of Australian Psychological Society)
• AFAIM (Associate Fellow, Australian Institute of Management)
• CAHRI (Chartered Member, Australian Human Resources Institute)
• State Registered psychologist
• Certificate IV in Workplace Training and Assessment
• Currently completing 30 hour teaching business English course (GLOBAL ENGLISH TESOL)
Accreditations


• Certified Member of Leadership Faculty of General Electric Crotonville Leadership Centre, New York, USA


• Certified international facilitator of the GE course "Effective Coaching Skills".


• Accredited Administrator of the Myers-Briggs Type Indicator (MBTI)


• Accredited Administrator of Occupational Personality Questionnaire (OPQ)


• Master facilitator of Hogan Personality Inventory Assessments (HPI), and Hogan 360° Reports


• Accredited in Targeted Selection Interviewing, Assessment and Feedback, and Job Analysis


• Accredited DISC profiler


• Certified Executive Coach (KornFerry)

Clients include:
National Australia Bank, Deakin University, Australian Human Resources Institute, Asia Business Forum, Citipower, Gippsland Water, Moreland City Council, Guild Insurance, Commonwealth Serum Laboratories, Oxfam, University Aix-Marseille, VicRoads, University of Melbourne Commercial.
Glenda is currently facilitating Coaching Circles for women at executive level in the Australian Public Service.

Author of Books
"52 Ways to be a Top Trainer"
"52 Ways to Get More Time in your Life"
"52 Ways to Break through the Glass Ceiling"
"52 Ways to Steer your Career"
Glenda's recent book "52 Ways to Break through the Glass Ceiling" has had enormous success in helping
women get out of their comfort zone, take a risk and be the best they possibly can be.

Testimonial
"Glenda is still my benchmark for her engaging and effective facilitation skills. She is one of the best presenters I have experienced and I am including Harvard Professors and visiting Professors to Melbourne! I was an undergraduate student of Glenda's and then engaged her with a large US Based Training and Assessment firm as part of one of the largest Assessment Centre Programs undertaken 15 – 18 years later. More recently I have followed with interest her engagement skills with firms I have worked with. Her unique communications ability and genuine interest in people shine through to create a very memorable learning experience."
Amber McDougall, Director, Infinity Industries (Aust) Pty Ltd

"I wanted to thank you so much for the fantastic Performance Development & Review training provided today. I found it extremely useful, and in fact returned to my department and put it into immediate practice! Wonderful practical coaching".
Lyn Amy, General Manager I Communications & Development I Brotherhood of St Laurence I

" Glenda is an exceptional coach and facilitator. Her ability to connect on all levels enables her to form strong and lasting client relationships. This directly feeds into increased self awareness and positive and effective results for her clients. I can recommend Glenda to anyone looking to develop themselves".
Alan Kilfoyle, Owner, 4Seasons consulting

"I will definitely recommend this 'Vital Conversations' program to other managers. Glenda is a wonderful facilitator; very personable, patient (particularly when it comes to a problem child like me!) and full of valuable insights".
Aaron Hughes I Community Relations Projects Manager I Non- profit