J. Preston Witt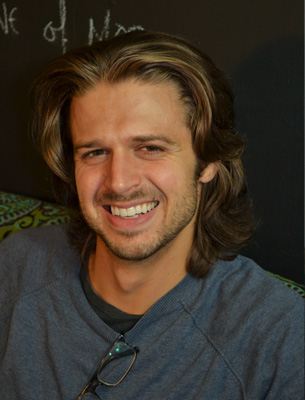 MFA Creative Writing, The Ohio State University, 2014
•Thesis Advisors: Lee Martin (primary), Erin McGraw (secondary)
•Focused on fiction, but also took workshops in poetry, playwriting, and nonfiction.
B.A. English Literature, University of Michigan, 2010
•Graduated magna cum laude from the Honors Program; senior thesis earned High Distinction •Phi Beta Kappa
Visiting Professor, Romanian American University, February - March 2015
•Invited to teach a one-week creative writing intensive for undergraduates.
Composition Instructor, Post University, January 2015
•Teach online writing courses to undergraduate and graduate students.
Composition Instructor, The Ohio State University, Fall 2011 — Spring 2014 •Full responsibility for five sections of composition, one per a semester.
•Planned and taught two unique writing-intensive courses:
Myth, Legends, and the American Dream: Cultural Narratives and Social Imperatives

Representations of Technology: Blessings and Curses, Saviors and Demons •Integrated multimedia and instructional technology to enhance student engagement.
•Taught one innovative writing course that emphasized in-class student collaboration through laptops, blogs, video, and multimedia presentations.
Creative Writing Instructor, The Ohio State University, Fall 2011 - Spring 2014 •Full responsibility for two sections of creative writing: Intro to Fiction •Planned and taught one traditional workshop: two stories per student, readings, critical writing assignments, and student-to-student written critiques.
•Devised a generative writing course: students wrote one story (8-20pgs.) each week of the semester based on skill-oriented prompts. Readings, in-class writing, and workshops with verbal student-to-student critiques were also included.
Nonfiction Workshop Instructor, The Ohio State University, Winter 2014
•Taught a single class as a guest instructor for an advanced undergraduate nonfiction workshop. The lecture focused on structural concerns for personal and lyric essays.
Literary Publishing Instructor, The Ohio State University, Fall 2013
•Taught a single class as a guest instructor about the realities of working for a literary journal. The class focused discussion on current trends in literary publishing.
Discussion Leader, Buckeye Book Program, The Ohio State University, 2011
•Led group discussions for first-year students based on books chosen by the Diversity and Outreach Program.
FICTION: PUBLICATIONS AND AWARDS
Able Muse 2014 Fiction Contest Winner, the story "Lesson One" was awarded first prize and will be published in the upcoming winter issue of Able Muse.
Trainwreck, a forthcoming anthology from Red 76 press.
Ninth Letter, Summer 2014, "A Shovel, a Chest, a Tree, a Fence, a Loon, a Heron, a Hole"
AWP Intro Award Nominee 2014, "Every Door, Every Window"
• The short story was selected to represent The Ohio State University MFA program for the competition.
The New Guard, published a selection from the novella Coldbrook, 2011
Machigonne Fiction Contest, finalist for a selection from Coldbrook, judged by Debra Spark, 2011 Black Warrior Review, Fiction Contest Finalist, Summer Issue 2011, a selection from Coldbrook.
Glimmertrain, 2010 Finalist for the Open Fiction contest: "A Boy, a House, a Bear, a Cast-iron Stove, a Man, a Winchester, etc."; a selection from the novella Coldbrook.
Art Is Fun Art Is Fun Art Is Fun, January 2014
•A solo performance written and performed for Ten Tiny Performances at Short North Stage in Columbus.
Let's Talk About the Circle of Life, Friends, Let's Sing and Dance, September 2013 •Wrote and directed a short piece of dark comedy.
•Produced by OSU's Lab Series in affiliation with InTransit: an experimental play festival performed in automobiles.
Happy Panda Shoots Himself, a full-length original play, 2012-2013
•Mad Lab Theatre, April 7-28, 2013: Produced for a three-week run at a professional company in Columbus.
•Mid-American Theatre Conference, March 7-10, 2013: One act from the play was selected for a performance and workshop.
•The Lab Series at The Ohio State University, October 22nd and 23rd, 2012: I directed a production of the full-length play.
•Works-in-Progress with CreativeRights, April 8 and 9, 2012: Invited to Ann Arbor, MI to perform a scene for a gallery audience.
Straightjacket, a short play co-written and performed in 2011 with poet Darrel Holnes
•PEN Dirty Laundry Lit, Dec 3, 2011: Invited to Little Temple in Los Angeles, CA by the PEN Foundation to perform the piece.
Fiction Editor, The Journal., August 2013-present •Choose and solicit fiction content.
•Promote the magazine and manage day-to-day operations.
Co-Founder, Editor, PhoneFiction Inc., March 2013-present
•Started a high-tech experimental publishing project that works with authors, literary editors, and educators in order to promote literary short fiction and non-fiction.
•Pitched initial concept, received grant, organized team, developed business strategy. •Devised an innovative writing contest.
•Edit and manage all content at www.phone-fiction.com (launched July 5l 2013).
Associate Fiction Editor, The Journal, 2012-2013
•Advised the Executive Editor on all publication decisions.
•Managed rejections and emails; gave a second reading to all submissions.
•Interviewed authors for the website.
Mother Tongue Reading Series, 2012-2013
•I produced a monthly reading series in Columbus, OH. We attracted a regular crowd of 50+ and had a variety of performances: fiction, poetry, and comedy.
The OSU Press Wheeler Prize for Poetry, 2013, 2014 •Read book manuscript submissions.
The OSU Prize in Short Fiction, 2011 and 2012 •Read short story collection submissions.
INVITED CONFERENCES AND PRESENTATIONS
PLAYA, Summerlake, OR, November - December 2014 •Selected for a five-week, fully funded residency.
Trainwreck, a writing residency, November 2014
•A new traveling residency sponsored by the artist cooperative Red 76.
The Writer's Craft: A Russell Banks Sampler, Panelist, March 2014 •Bexley Community Book Club, 2014
Martha's Vineyard Creative Writing Institute, Scholarship recipient, July 2013
Virginia Center for the Creative Arts, 2011
•Invited to perform scenes from Straightjacket during a collaborative residency.
Wexner Center for the Arts, June 2010
•Facilitated an hour-long gallery talk on the Mark Bradford exhibit.
CIC Conference, 2010
•Made a presentation to other CIC literature scholars of my paper titled, "Developing the Postmodern Narrative: Rewriting The Tempest
OTHER WORK AND ARTISTIC ENDEAVORS (Selected)
Quora.com, Independent Quality Content Editor, July 2014 — present •Develop user-generated content.
PhoneTheatre, July 2013-present
•Designed and built a smartphone application that facilitates audience-driven dramatic
works.
Josiah McElheny: Towards a Light Club, Wexner Center for the Arts, January-April 2013 •Danced twice a week as a member of McElheny's gallery exhibit.
Cornering a Hare, Urban Arts Space, Columbus, February 2013 •Performed as part of Paige Phillips's gallery exhibition.
Whiteberry, Blackberry, gallery installation inMFA+MFA, 2011
•An audio and hyper-text projection poem shown at the University of Michigan, made in collaboration with Darrel Holnes.