Walter Matli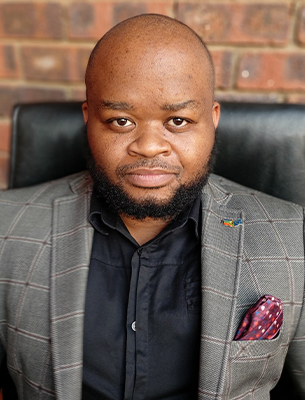 Walter Matli (PhD), 37 years old, is currently an Associate Professor in the area of Digital Transformation and Innovation at the Graduate School of Business Leadership (SBL) at the University of South Africa (Unisa). He is a member of UNISA Senate, SBL ICT steering committee, and serves on other strategic committees. Matli is involved with research, engaged scholarship, academic citizenship, and teaching and learning.
In his 14 years of experience in Academia, Governance and Industry (across domains such as ICT sector, Public Health and Education, and Technology Consulting), he has left a trail of awards and recognitions, publications, and an incredible record of innovative solutions. Matli is a recipient of several awards that include but are not limited to the Vice-chancellor's Academic Excellence Award, Rectorate's Award for Teaching Excellence (Highest Recognition category), Annual Research Awards (1st place), and received Special Commendation at the South African Accenture Rising Star Awards.
Matli is highly recognized as a consistent and successful champion of transformation and community work. Having worked within the Higher education environment, Matli is well versed in the challenges that the sector faces both at the student and governance level, given that he has experienced the best of both worlds as a student-turned-lecturer and served as a council member.
He holds PhD (2019) primarily focused on ICT4Development with a specialisation in Capacity Development, Information Access in the Digital Era, and Technology from the University of South Africa (UNISA). His doctoral dissertation employed the South African National Development Plan 2030 as a guide for the research study. He further employed multidisciplinary approaches, drawing from the National Integrated ICT Policy White Paper. The title of his thesis was: Developing an information services system framework towards developing the capacity of people who are not in employment, education or training (NEET).
He gained a Master's degree (ICT) with a specialisation in ICT in Education from Vaal University of Technology, Gauteng, South Africa, in 2016. His other degrees were Postgraduate Diploma in Information Systems Auditing with three majors in the Audit process, IT governance and Systems and Infrastructure, conferred by the University of Johannesburg (UJ). Advanced Diploma from the School of Higher Education Studies - conferred by the University of the Free State (UFS). Technical Education to meet Global needs obtained from the National Institute of Teachers Technical Training & Research (Chennai- INDIA).
Matli has previously attended workshops by Ethics SA, Business Unity South Africa anti-corruption training and mentorship programme, and the 2012 Public Protectors National Good Governance Conference. He worked voluntarily for a community radio station as a news anchor.
Matli's strength lies in his ability to traverse disciplinary parameters, research and stakeholder cultivation and development. He is a ministerial appointee Council member of Community Education and Training College for the term 2020 -2025. He is a member of the ICT steering committee at the Quality Council for Trades and Occupations (QCTO) for the term 2023 – 2025. Matli is also a member of the Gauteng Nursing College Board for the term 2021 – 2024.
He has published widely; in refereed local and international academic journals, including African Journal of Science, Technology, Innovation and Development (2020); Higher Education, Skills and Work-Based Learning (2021); Education +Training journal (2021); Innovation: The European Journal of Social Science Research (2021); A book chapter on Institutional, Economic, and Social Impacts of Globalization and Liberalization handbook (2020), and the International Journal of Sociology and Social Policy (2020) among others. At present, he is a reviewer for journals that include but are not limited to Behaviour & Information Technology (Taylor & Francis), Development in Practice (Taylor & Francis), International journal of manpower (Emerald), International journal of social economics (Emerald), and Journal of Business Research (Elsevier). Matli is currently an Associate Editor for the Journal of Research in Innovative Teaching & Learning (DHET accredited journal).
Matli is a Publons certified peer reviewer with an interest in ICT4Development cutting across a vast of social issues. He is a multidisciplinary researcher with an interest in ICT4Development cutting across a vast of social issues. His experience involves research on a range of topics that relates to young people in general. Some of his research work entails 4IR on jobs, Artificial Intelligence and Business Digital Futures, Information System Auditing, Remote working, Technology acceptance and use, Digital access and use, Telehealth, Innovation, ICT in Education, and capacity development of People who are Not in Education, Employment or Training (NEETs). The bright, enthusiastic, and committed Matli has read and presented academic papers in numerous places and some of the highlights are:
• BRICS Young Scientist Forum, 2018.
• VSS2019SouthAfrica Stakeholders' Perspectives on Sustainable Development and Bio-economy VSS/UNFFS, 2019.
• Nazareth College of Education International Conference on Student behavioural management, Avadi - India.
• Good governance workshop, Chennai – India.
Professional affiliation, he is a member of Progressive Blacks in Information and Communications Technology (PBICT) in Gauteng Province of South Africa, member of the international professional association focused on IT governance (ISACA), Association of Information Systems, and Black Management Forum (BMF) in the Ekurhuleni cluster. Politically, he served on the ANC Gauteng Provincial Education and Health sub-committee between 2018 to 2022. From 2019 to date, he remains a member of the ANC Gauteng Provincial Monitoring and Evaluation Volunteers.
Matli is committed to knowledge production, innovation, and the advancement of socio-economic development of young people in South Africa, Africa, and the world, in particular for the benefit of those who are not in education, employment or training from disadvantaged communities - given the rapid technological advances that continue to create new forms of the divide in the society.