Dr. Gai Ferdon
Assistant Professor
Helms School of Government
Liberty University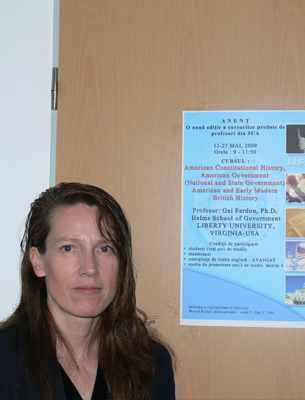 Be mindful that my teaching expertise is in the field of American Constitutional History, American Government (National and State Government) as well as American and Early Modern British History, with subthemes of republicanism and federalism. I do of course deal with the nature of the history of American/Anglo Jurisprudence within these disciplines. In this regard, I instruct students in American Government past and present. I propose a course which combines American constitutional history with American government for your students.
Area of Specialization:
Constitutional Government and Free Enterprise, American Government Honors, State and Local Government, Political Economy and Public Policy, American Political Ideas, American Constitutional History and Public Policy Development in the Political Environment

Professional Career:
B.A., in History/Political Science, Indiana Wesleyan University
Institutional contributions towards B.A.: University Madison-Wisconsin, Wheaton Graduate School,
M.A., Robertson School of Government and Public Policy, Regent University, 1994
Ph.D in 17th century British political thought, University of Leicester, 2004

Biographical Statement:
Dr. Ferdon was born in Portage, Wisconsin. Her educational background has been interspersed with life-changing missionary experiences and teaching positions in many interesting and intriguing parts of the world. Her own experience relative to teaching and instruction spans approximately 25 years both in the United States and abroad.